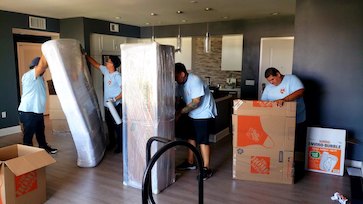 Our company provides all possible relocation services for your apartment moving needs. Including full packing, moving, and storage services. Choose from flat our hourly rates.We will explain to you all of the available options that will make your move efficient, safe and within your budget.
Our highly professional and trained apartment movers will make sure to make your move as smooth as possible. You will not lift a finger.
For your peace of mind, our apartment moving services includes insurance as well.
Apartment moving services in Los Angeles can vary from one item delivery to relocating the whole apartment within one building. As well as going from one part of town to another and moving long-distance.
Do you have flights of stairs that make your move challenging or difficult? Or how about small elevators or narrow hallways and turns to contend with? Don't worry, we've got you covered. If you need apartment movers we have been trained and have the experience necessary to handle even the most difficult sofa vs narrow hallway challenges
Apartment movers must-have muscle power! It can take a tremendous amount of physical effort to move a refrigerator or sofa down or up staircases. When there is no access to an elevator or the dimensions of the space available are too narrow, you can count on us. We have the manpower to go down the stairs on the way out, or up to several flights of stairs as you arrive at a new apartment
More information: Apartment moving services
In addition, we have all of the necessary moving supplies and materials to make your move speedy and hassle-free. There is no additional charge for these services! Whether it is a studio, one-bedroom, or full condo move, we have a pricing structure that you will find affordable and convenient. We also adjust the size of our crews for each job. Don't worry about not enough of us showing up, or too many showing up for a one bedroom apartment. We'll determine the size of the job and arrive with a friendly, capable crew ready to take on the job.As apartment movers, our goal is to make your move safe and efficient without hurting your budget. Give us a call or submit a quote form to discuss your coming apartment move